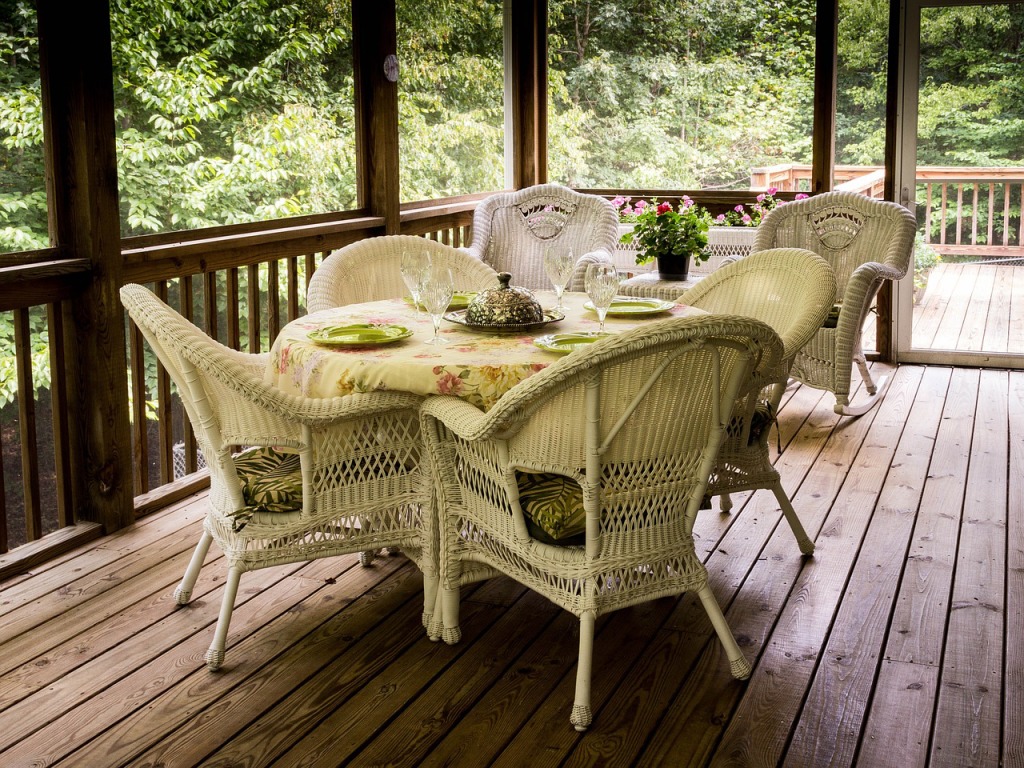 It's the perfect time to update your three-season porch with a refreshing new look. Whether you want to design a getaway spot for your family or a place where friends can gather to enjoy conversation and ice tea, these 10 decor ideas can help you get started.
1. Furnish your space with wicker. While a wicker sofa might appear too casual for the living room, it would look right at home in your three-season porch. If not already upholstered, add two or three cushions to create comfortable seats.
2. Decorate with bright colors. Three-season porches are designed to let in as much natural light as possible. To enhance the sunny theme, accessorize with bright colors like orange or pastels.
3. Accessorize with a rug. Rugs are an easy way to add color to a space and they help create a cozier, more welcoming environment. Plus, if you don't want to wear shoes in your porch, you'll appreciate the soft fabric for walking around.
4. Bring in fresh plants. When sitting in your porch, you can look outside and enjoy the view of beautiful trees and plants outside. But why not enjoy it a little closer? Bring in a few outdoor plants to energize your porch and help it smell fresh.
5. Don't forget blankets. During the afternoon, you might not need any help staying warm. If if you like to sit in your porch in the morning or evening, though, a few blankets can come in handy.
6. Create a reading and conversation nook. A sofa where you can lounge or catch up with friends is almost a requirement for three-season porch decorating. Add a coffee table where you can place your favorite books or set down drinks, then add a couple of chairs for larger gatherings to make your nook perfect.
7. Consider adding a dining area. If you'd rather use your porch to enjoy an afternoon cup of tea or a meal, swap out the sofa for a table and some chairs. There's nothing quite like gathering around the table to share a meal with the family while gazing outdoors and enjoying the beautiful sunshine.
8. Add your own light. Most of the time, you can depend on the sun to illuminate your porch. On a cloudy day or at night, however, you will want to switch on a lamp or overhead fixture to light up the area.
9. Hang up a thin window curtain. As much as you love natural lighting, the sun can sometimes be too harsh or hot and leave you feeling uncomfortable. Install sheer window curtains that you can use when the sun is glaring or you are trying to stay cool. Thin, transparent curtains will soften the lighting without blocking out the sun.
10. Install a ceiling fan. Three-season porches don't have A/C, so another way to stay comfortable in the summer is to install a stylish, decorative ceiling fan to provide a cool breeze.
Three-season porches offer the best way to enjoy warmer weather for as long as possible. Make the most of your porch space by considering these 10 ideas and get inspired to give your porch the makeover it needs.