For hundreds of years, armoires have been known for their distinguished French style, sturdy construction and flexible use. Armoires, also known as wardrobes, continue to grow in popularity and are no longer just for the bedroom. They have transitioned into furniture for every room, which can be seen in TV armoires, computer armoires and jewelry armoires.
So how did armoires become commonplace in so many homes? Check out these five facts to learn more about the rich history of armoires.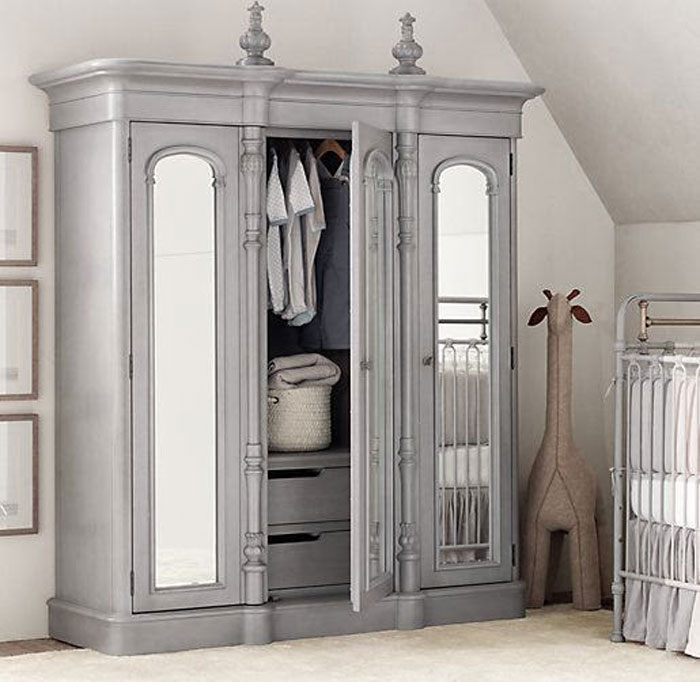 1. Armoires have had many purposes throughout history.
Today, armoires are mostly associated with clothing, but they were first used for other purposes. The original armoires were used by craftsmen to store tools, which is where the term "armoire" comes from. The name is a combination of the Latin words for closet ("armarium") and tools ("arma"). However, the most popular use of armoires before they became storage space for clothing was to keep weapons.
2. Royalty influenced the shape of modern armoires.
The armoires you see for sale today are usually tall and wide, with two doors, hanging space and shelves inside and drawers at the bottom. Their vast amount of space and storage capabilities are what make them a popular furniture choice in many homes. But this isn't what armoires always looked like by definition.
Armoires began as simple chests that held tools, weapons and eventually clothing. When powerful nobles and other members of the upper class began using clothing and other luxury items to distinguish themselves from lower classes, their clothing-storage practices also changed. They created entire rooms filled with closets where they could hang their clothes and shelves where they could place items instead of stuffing them in chests. Eventually, these new, upright closets with hanging spaces and shelves evolved into the modern armoire.
3. Many designs are named for monarchs.
In addition to influencing the shape, royalty also inspired the names of many armoire styles. Designs such as Louis Philippe, Louis XIII, Louis XIV, Louis XV and Louis XVI are named after the monarch who reigned at the time of the furniture's creation. Some of the designs, in fact, were created specifically for the kings who inspired their names. For example, André-Charles Boulle was the famous cabinetmaker to Louis XIV, and the current Louis XIV armoire design mimics Boulle's original pieces for the king.
4. "Eight Small Men Method" was a common sizing practice.
An armoire was considered a sufficient size if it could fit eight small men inside. This was a rule of thumb for craftsmen, and it was often tested using real men of small stature.
5. Colonial America played a part in the armoire boom.
Most armoires of the seventeenth and eighteenth centuries were made of oak, but oak quickly became scarce and expensive due to the increased demand. In order to overcome the shortage and continue production, European craftsmen began using walnut. At the time, Colonial America was harvesting a surplus of walnut timber, and they exported it back to England and France for the craftsmen to use.
Now that you know the history of the armoire, you can look at the popular piece of furniture with a new appreciation.