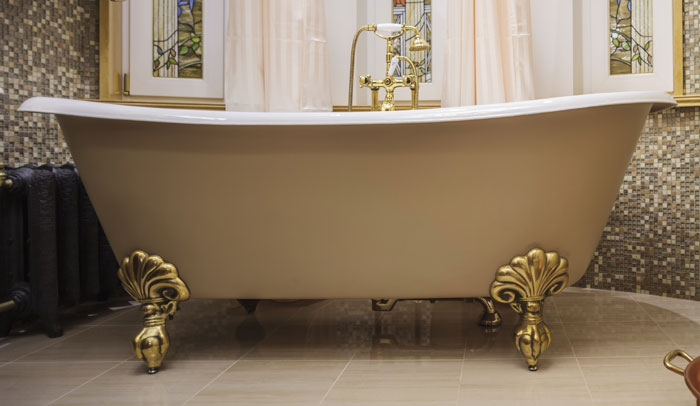 If you've seen any renovation projects or looked around at what people are doing with their bathrooms, you may have noticed that today's bathrooms have become much more than a cramped utilitarian space for quick pit stops. That's because bathrooms are now seen as a refuge, a place to relax and unwind. In many cases, bathrooms are the sanctuary of the house.
Sometimes we see over-the-top bathrooms with chandeliers, marble tubs and all manners of luxury amenities that you would expect to see in some 19th century mansion. There's nothing wrong with this, of course. In fact, there's a lot that's right about these spaces. But sometimes you just want to see some more life, some more flare and fun in your bathroom.
In the end, bathrooms are a personal space, so why not show off your fun side? Here are 5 ideas to help you do just that.
Chalkboard – Many people claim to have their best ideas in the shower. Great ideas may also come to you while you shave your face or brush your teeth. Whatever the case, with a chalkboard installed on your wall, you'll be able to write down the ideas as they come to you. Granted, most of the brilliant ideas might merely be additions to your grocery list, but you'll love the quirky look it will give to your bathroom.
Plants – If you have windows that let in natural sunlight, you have good reason to put some plants in your bathroom. If space is an issue, consider hanging plants from the ceiling or installing pot holders along the wall. Either way, plants add a liveliness that is often unexpected in a bathroom.
Paint the tub – Most tubs are white or some unexciting, neutral color. It doesn't have to be that way. With the right paint and a little inspiration, you can transform your tub with a vibrant, exciting color. The result just might change how you feel about your bathroom.
Art –Whether it's a Rembrandt or a masterpiece painted by your three-year-old, hanging well-framed pieces of art in your bathroom will add a refreshing dash of enchantment.
Under-cabinet lighting – Here's an idea you can have a lot of fun with. You can go with a more conservative style and install standard lighting, or you can try something a little edgier and put in neon lights of your choosing. Either way, you'll highlight parts of your bathroom that normally fade into the background.
A little creativity goes along way. These ideas all offer great opportunities to bring out your personality while renovating your master bathroom.