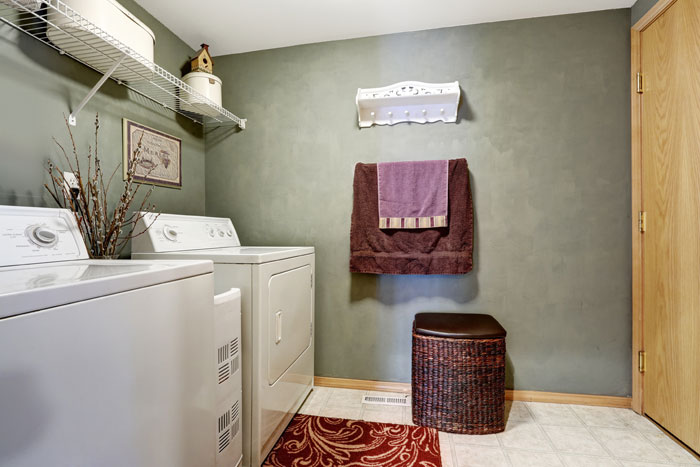 Some of us probably have a story about the laundry room in the apartment building where we lived during or after college. No doubt the moldy smell, the unfinished concrete walls and splintering folding table all made an impression. Fortunately, those days have passed and getting clean sheets no longer has to be such an ordeal.
Nonetheless, few give much thought to decorating their laundry room. This room tends to be the drabbest in the house, hidden away behind a door where a scattered array of detergents, dryer sheets and old rags hang out. It doesn't have to be this way. With a few simple accessories, you can transform your laundry room into a well-organized space that is as functional as it is fashionable.
Task lighting – Whether you install a light under the cabinet or add a standing lamp, bringing more light into your laundry will help you during folding and sorting. Plus, it will brighten the whole place up and make it into a warmer, more inviting space.
Hanging Rod – Installing one of these is an easy way to organize clothes in your laundry room. They also work great for items that need to be line-dried.
Pedestals – When installed under your washer and dryer, pedestals raise the units anywhere from 12 to 16 inches. With a raised unit, you no longer have to bend down to load and unload a dryer, which reduces back strain. Plus, with the pull-out drawers on the pedestals, you'll have more storage space.
Wicker baskets – These are a simple and tasteful way to store detergent, stain removers, dryer sheets and more. If you have extra shelf space and are looking for a dual-purpose solution to reduce clutter and improve the look of your laundry room, wicker baskets are the way to go!
Pull-out hamper – Nothing embodies the chaos of a laundry room like a pile of dirty clothes. Even when you put in a hamper, clothes seem to overflow. One solution is to use a pull-out hamper. Much like putting the trash under the sink, a pull-out hamper keeps things tidy, even if you have a pack of teenagers!
With these simple upgrades, you'll be amazed by how drastically your laundry room will be transformed.