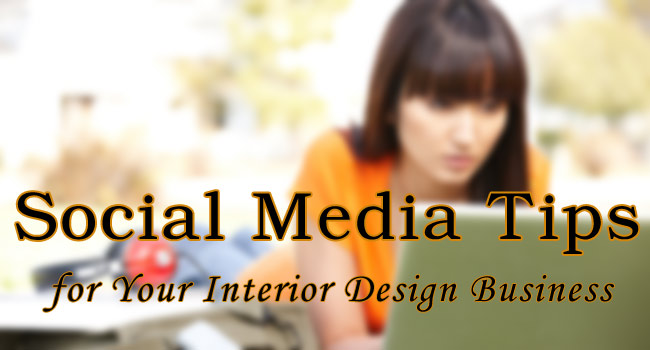 As the owner of an interior design company, you have to be on the lookout for new and potential clients regularly. One free and very useful way to market yourself is through social media networks. With social media, you can expand your client base to reach new audiences, all without leaving your computer. Using social media, however, is not just a matter of creating a profile.
Click here for our previous article on starting your own interior design business
Follow these five social media tips to market your interior design business and reach new clients.
1. Be active on more than one network

Choose three or four networks that best match your clientele and industry. Pinterest is an excellent platform for designers as it is mostly visual. If you're trying to reach a younger audience, consider Twitter or Tumblr. Facebook is a solid choice for trying to reach the broadest audience.
2. Answer questions and build relationships

Social media gives you the opportunity to interact with your potential customers, answer their questions and build relationships. Take advantage of this opportunity by participating in conversations and providing useful answers whenever a question is asked. Building relationships will also build trust, and users will start to see you as more than just a company rep, but a person as well.
3. Start a blog
Many of your clients will be interested in the work you have done in the past. Instead of merely presenting your portfolio online, give users the inside scoop by sharing how you dive into the creative process and provide more insight into your personal style. Of course, you don't have to share all of your secrets, but further explanation will give potential clients a better grasp of your work and how you can help them.
4. Consider each social media post carefully
It's better to post fewer updates that are interesting and encourage conversation than to update your profile often with information your followers may not care about. Think about every link, thought or question you post with your audience in mind so your online communication can be most effective.
5. Perfect your website
In many cases, the goal of social media is to get users to check out your website. Once they get there, you want potential clients to like what they see. Set up usability testing to make sure your website is easy to navigate and that the design is pleasing to the eye.
Are you ready to give your business a boost? Take advantage of free social media networks and start building relationships with your new audience!