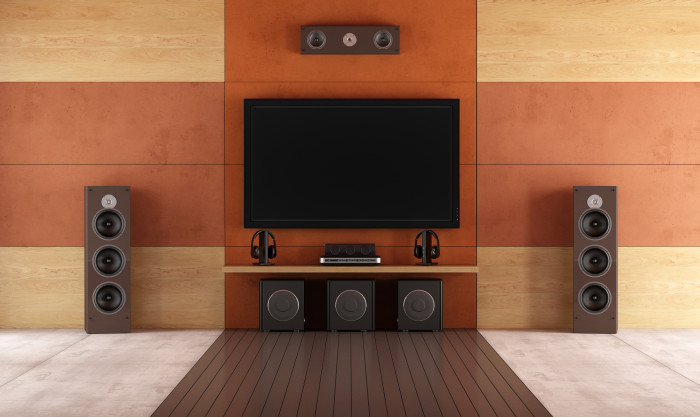 Some call it the TV room or home theater, others refer to it as their man-cave. Whatever you call it, the media room is both a sanctuary where you can relax after a long day at work and a place for entertaining friends. There are thousands of ways to design the perfect media room, but with so many high-tech gadgets and accessories out there, it's easy to get spooked by the costs. To help you design your ultimate media room, we've put together five easy tips for optimizing your space on a budget.
Divide your budget in three.
    A media room should offer more than a couch and a television. It should provide a great viewing and listening experience, and promote top notch relaxation. In order to achieve this balance, begin by dividing your budget into three areas: Audio, visual and comfort. Many people overlook the audio part of this equation. Even with the best flat-screen TV or projection monitor, bad acoustics can completely ruin your viewing experience, so be sure to budget accordingly!
Balance the hard and soft surfaces.
   One of the most important ways to ensure proper acoustics is to strike a balance between the hard and soft surfaces in your media room. If you have too many flat, hard surfaces, the sound will have a sharp edge that might echo. On the other hand, too much soft, plush material will muffle and mute the sound quality. If you have solid wood floors, for example, try hanging plush curtains over the window or adding an area rug.
You don't need the latest and greatest.
   When high-definition televisions reached consumer markets almost two decades ago, the least expensive units cost around $8,000. If you ran out and bought one then, you might feel pretty disappointed right now. Likewise, in the past few years we've seen prices in 4K televisions drop dramatically, often by increments of thousands of dollars. So, instead of getting the latest technology available, get the greatest technology from two or three years ago. Your pocket book will thank you.
Paint the room properly.
    Painting offers an affordable way to alter the mood of a room. Darker colors will give you a cinematic experience, reducing glare and absorbing light so you and your guests can focus on the screen. Black, however, will make the room seem a bit small, so we recommend mid to dark tones in either brown or gray. Finally, consider a dark red for the viewing wall. This will naturally guide your eyes to focus on the screen and add that classic theater look.
Think Antique.
    With all of the latest equipment in your Media Room, try adding some old film canisters, movie posters or records to the wall to produce affordable class and old-fashioned charm in your space.
By keeping these tips in mind, you'll set yourself up to create the ultimate entertainment room without breaking the bank.