Each room in your house presents its own set of challenges and solutions when it comes to organization. What you store in your bedroom is, needless to say, quite different from what you store in your kitchen. How you store those varying items is another story altogether. Nonetheless, no matter the room you're working on, you want to strike a balance between convenience and style. The bathroom is no exception.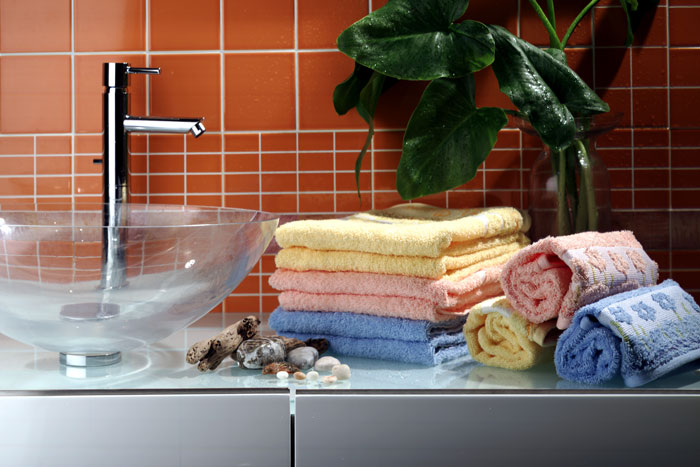 The unique challenge of organizing a bathroom is that, oftentimes, there are so many different ointments, lotions, cleaners, eye-care products, and beauty and hygiene supplies that everything can quickly turn into an un-sortable pile. With this is mind, here are five tips to help you organize and inject some style into your master bathroom.
Don't be afraid to throw stuff away – A well-organized bathroom (or any room for that matter) begins with an attitude. You likely have a lot more stuff in your bathroom than you need, and all those samples you've collected from hotels and airport terminals can be tossed out. You need only one of each, after all. Also, if you haven't used a make-up product in a while, toss it out to make room for products you actually use.
Transparent containers – This is a solution for the perpetually messy, for those who try to organize but ultimately can't. Glass jars work great because they have a certain charm and allow you to see what's inside of them. Buy a variety of sizes and be liberal about how you use them. This will ensure that you keep things separate and organized.
Caddy for the kiddies – If you have kids, things can get really crazy really quickly in the bathroom. Hang a mesh bag above the bathtub to keep all their bathtub toys collected in one space. When the toys are wet, they can drain and drip into the bathtub while they dry.
Compartmentalize – To make this idea work, take inspiration from your silverware drawer in the kitchen. Try to divide the items you use together, such as lotions and make-up, into separate compartments in the drawers and on shelves. This will make it much easier to find what you need.
Hang it up – Over-the-door organizers come in a variety of sizes — some small enough to fit on cabinets — making them a great, convenient solution for tidying up the little things that so often get lost in the big piles.
There's no secret to organization. All it takes is a few containers and a little time and you'll be able to bring sanity and order to your master bathroom.