Southern style is all about creating a comforting and welcoming environment. Homes that have mastered this southern charm have combined the elegance of the romantic style with the simplicity of the traditional, country style. To bring some southern charm into your home, incorporate these elements into your home décor.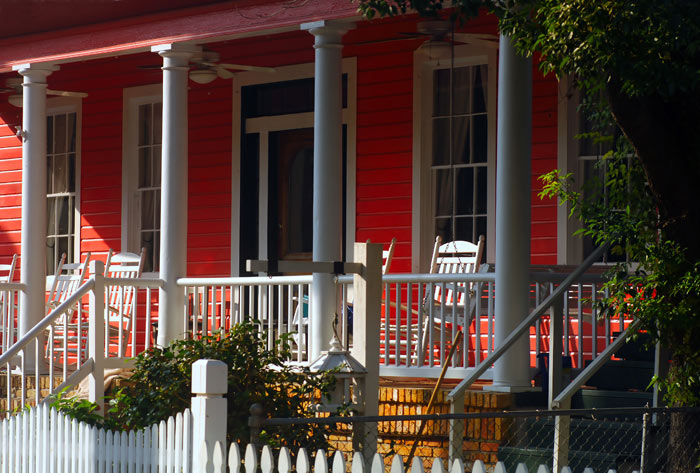 Wood furniture
An important aspect of southern design is finding pieces that have a rustic, country feel. In order to accomplish this cozy country spirit, incorporate as much wood as possible. Choose items crafted from pine, oak or other popular woods to fill your rooms and channel the beautiful nature of the countryside. Wooden dining tables, coffee tables, cabinets, bar stools, armoires and bookshelves are some of the furniture pieces you can use to bring southern charm to your home.
Natural elements
Plants provide a simple way to add life to any room and create a welcoming feel. Bright flowers especially contribute to a comforting environment because they add a splash of color and spread joy throughout the room. Whether they're picked from the garden or purchased from the store, flowers are a must in any home trying to achieve a southern look. Flowers aren't the only option, however. In addition to a stunning bouquet of flowers, consider starting an indoor herb garden or getting a houseplant to add pops of green to your home. Incorporating these natural elements will make your home all the more warm and inviting.
Mason jars
Mason jars have experienced a huge surge in popularity in the interior design world over the last few years because of Pinterest and its vast lineup of DIY projects involving mason jars. Their back-to-the-basics, country feel is perfect for achieving your desired southern style. The best part is that you can buy mason jars in bulk at an affordable price from most retail stores, and you can find projects galore online. Use the jars as flower vases, candle holders, candy jars, light fixtures, canisters for baking ingredients, soap dispensers, picture frames and more. The possibilities are endless thanks to Pinterest and other DIY blogs.
A Chandelier
An elaborate addition to any home, the chandelier is a staple in southern interior design. Not only does it exude elegance and old-fashioned class, a chandelier is a beautiful way to add light to a room and make the space feel open and welcoming. Place a stunning chandelier over the dining table or in the front entryway as a way to incorporate southern charm into your home and to show off your incredible style to guests.
Pottery
Handcrafted pottery has an old-fashioned, country feel to it, making it the perfect addition to your southern home décor. A pottery collection can be simple with just a few decorative vases for the living room, or it can be quite extensive with diverse pieces such as vases, cooking pots and pans, mugs and plates. Be sure to get pottery with a consistent design so that your décor will have a seamless look. Shoot for simple white pottery items or a single pattern instead of mixing multiple colors and styles.
Neutral paint colors
When it comes to choosing a color palette for a southern-inspired makeover, stick to neutrals. The furniture and décor pieces should be the main focus of the room, and you don't want to overpower those features with strong colors. Keep the rest of the room simple by painting with shades of gray, brown, beige or cream.
For just a hint of southern charm in your home, start small with a couple of these items, like mason jars or house plants. For a complete southern makeover, try to bring all of these elements into your home. With some (or all) of these pieces in your home, you'll have a cozy and inviting space that will exude southern charm.