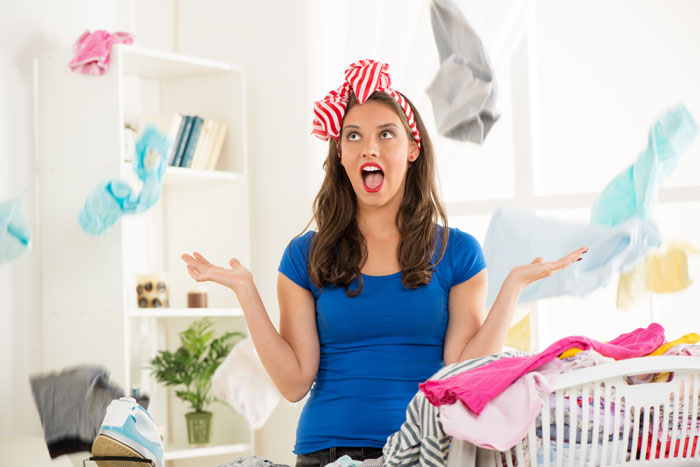 Ample storage is the key to staying organized. This is especially true in a space like the laundry room, where items can easily accumulate. People have a tendency to make the laundry room a home for household cleaning products, crafts, unused clothing and other random items — all in addition to actual laundry supplies like detergent, stain remover, etc. The laundry room is also usually one of the smallest rooms in a house, which makes having enough storage even more important in keeping the room tidy. Here are nine ways to get the most storage space out of your laundry room.
1. Overhead cabinets
If floor space is limited and storage shelves aren't a convenient option in your laundry room, take advantage of the space above your head instead. Wall-mounted cabinets above the washer and dryer units are a stylish way to maximize the room's open space and keep items organized and out of sight. With your laundry supplies above the machines, everything you need will be at eye-level and within reach.
2. Wall shelves
Another way to use the space above the washer and dryer is with wall shelves. Just like cabinets, wall shelves are a creative and trendy way to store your items in a smaller space and still keep them in a convenient location.
3. Washer and dryer countertop
If both your washer and dryer are front-loading machines, one of the easiest ways to add extra storage space to the room is to install a shelf or countertop directly above the machines. The added countertop will give you a nice, flat surface to store supplies. You can even keep decorative items, like flowers or a vase, on the surface to spruce up the room.
4. Slide-out storage tower
Open space that's often overlooked in the laundry room is the space between the washer and dryer. The area may be small, but a slide-out storage tower is the perfect way to transform the empty space into storage. Most slide-out storage towers are thin enough to fit snugly between the machines yet wide enough to hold standard-sized cleaning supplies, like detergent bottles, stain treatments and laundry sheet boxes. Plus, keeping items in the middle of your washer and drying machines will make preparing loads much easier.
5. Door organizing rack
Another overlooked area is the room behind the door. Instead of wasting the space, use an over-the-door organizing rack to increase your storage capabilities. Racks are available with wire shelves or fabric pockets of varying sizes and spacing to match your needs. With multiple styles available, you can use the organizing rack for laundry supplies, household cleaning supplies, extra shoe storage and more.
6. Ironing board holder
Behind the door is also the perfect spot for your ironing materials. Many department stores carry over-the-door, fold-away ironing boards so you can keep one handy but out of the way. A hanging iron caddy is another over-the-door item that can store your iron, board and other supplies in one, convenient place.
7. Pedestals
Pedestals under your washer and dryer raise the machines 12 to 16 inches, which makes unloading clothes easier and creates additional space for storage. Many pedestals feature pull-out drawers so you can keep supplies organized and out of sight. Pedestals without drawers can be handy, too. Simply store items in baskets or bins underneath the pedestal to keep them off the floor.
8. Sorting hamper
A laundry sorter is an essential item for every laundry room. It will save you time while doing laundry and decrease the frustration of having to sort clothes before each load. With a three-bag sorting hamper in the laundry room, you can separate your loads ahead of time and simply empty each hamper into the washing machine when ready.
9. Drying bar
Many shirts, dresses and delicate clothing items fare better when removed from the dryer while slightly damp and allowed to air-dry. A pop-up drying rack is commonly used to air-dry clothes, but a drying bar will conserve more space. Install a towel bar, closet rod or something similar on the wall or underneath a cabinet to create your own drying area. You can then hang clothes to dry without taking up floor space.
These nine simple additions to your laundry room will work wonders for the room's storage capabilities. Taking the time to makeover your laundry room with some of these organizational tips will allow you to keep the room clean and make doing laundry more efficient.