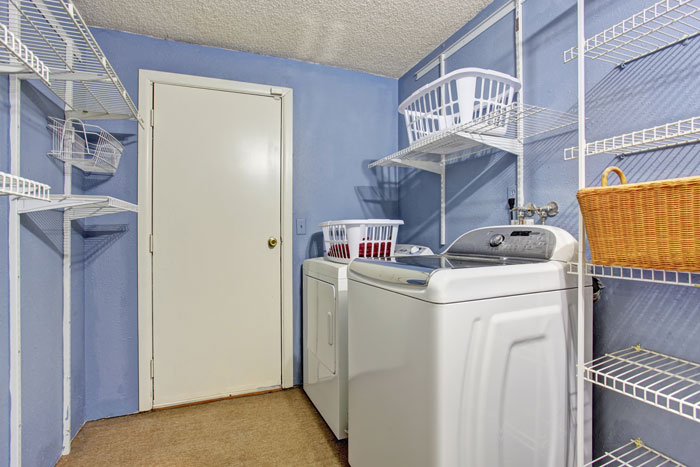 The laundry room is often overlooked when it comes to decorating, with many people bypassing even something as simple as choosing a wall color. Since the laundry room is used less than other rooms in the house and guests will seldom see it, many people figure wall color and other décor don't matter. This isn't the case, though. The right color palette in the laundry room will make the room feel more organized and cheerful, which can increase efficiency and reduce stress while doing laundry.
Create more space with light colors
Laundry rooms are usually one of the smallest rooms in the home, but certain colors can give the illusion of a bigger space. A light paint color, such as subdued tints of yellow, green, pink or blue, will make the room feel open and more interesting. Lighter, serene colors also create a sense of organization and peace, which is perfect for making a task like laundry less tedious and messy.
Consider lighting
In addition to being small, laundry rooms have a tendency to be poorly lit. Often in the basement, laundry rooms usually have little natural light available, and artificial light can make colors appear different from how they would look in natural light. Test colors in the room with paint samples before selecting a final color. If the laundry room is in a dark area of the home, lighter tints, especially shades of yellow, orange and pink, will make the room brighter.
Match color to personality
Blue and green are soothing colors and perfect for people who lead busy, stressful lives. If laundry feels like a chore or you're always rushing through it, blues and greens can alleviate some of that stress and improve mood. The color won't necessarily make laundry a fun task, but at least it won't be a low point in the week. On the other hand, those who enjoy doing laundry or find relief in the task may be better off with a warm color like orange or yellow. Both colors are energetic and stimulate positive emotions.
Don't fear whites and neutrals
The laundry room is a room focused on cleaning. Not only is it where clothes are cleaned, but many people store household cleaning supplies in the laundry room. Whites and other neutrals will give the room a sleek, clean appearance to match its purpose. Choosing to keep the room simple with a white, cream or beige hue is particularly ideal for people with an affinity for tidiness and those who may be overwhelmed by color. White walls and décor are not recommended for homes with children, however; all it takes is one crayon to ruin the beautiful room.
After you've considered which colors will enhance the conditions of your laundry room, like size and lighting, as well as which colors best fit your personality, you'll be prepared to transform your laundry room from boring and unorganized to lively and efficient.