In both bedrooms and living rooms, a futon can be an excellent alternative to the bed or sofa. Futons are often less expensive, can be just as comfortable and are typically more versatile. Still, many people decide against futons, thinking they are only used by college students and people just starting out. This, however, is not true. Read on to learn more about futons and get tips and advice on how to choose the best one for your budget and space.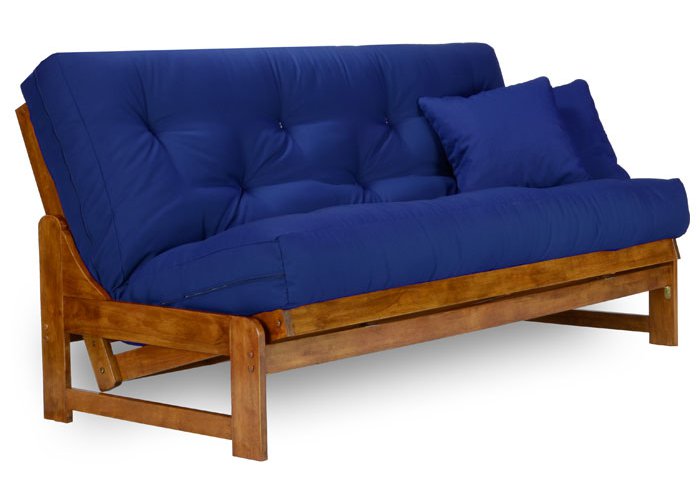 A brief history of futons
If you've read some of my previous blogs, you already know that futons are not just for college dorm rooms anymore. In fact, they weren't for college dorm rooms to begin with. The history of futons goes way back to Japan, where they were first used and called the "Shikibuton."
The original futon
The first futons in Japan were nothing like the ones you buy online or in furniture stores today. The original futon was a thin mattress – only about two to three inches thick – filled with long-staple cotton, which made the futon sturdier and more durable. It was easy to roll up and store during the day, until needed again at night. Their portability and easy storage made futons popular in Japan, and it wasn't long before other cultures started to catch on and adopt their own versions of this furniture piece.
Futons and the United States
In the United States, futons started to make an appearance in the early 70s, but instead of just being used to sleep, the American versions were also used for sitting. When first introduced in the U.S., the futon wasn't too spectacular. It was, however, more affordable and convenient, which is why the furniture piece became popular among students and apartment renters.
Improvements have been made over the years and futons have come a long way. Although cheaper, less comfortable options are still available, futons can now also be beautiful, comfortable and sturdy. Additionally, to this day they are often more affordable than an actual sofa or bed.
Buying a futon for your home
Futons vary in size, material, quality and style, and they often consist of three different parts: the frame, mattress and cover. Trying to pick one for your home can feel overwhelming if you don't know where to start, so use this guide to narrow down your options and find the best futon for your space.
Size
Futons come in many sizes, ranging from futon chairs to king-size beds. Before you determine what size you need, consider your space and why you're buying a futon in the first place. If you're buying a futon in place of a bed, obviously a chair won't be large enough. For a smaller room or kids, a futon loveseat could be just the right size. In the end, your futon should be relatively similar in size to the piece of furniture you're replacing (bed, sofa, chair).
Material
The frame material, mattress filling and upholstery material should all be considered before purchasing a futon. The frame material mostly matters due to style – you want to be sure it matches the interior design of the room.
When choosing the mattress filling, comfort is the most important factor. If you're buying a futon to sleep on, a thicker, coil-filled or foam mattress is best. All cotton-filled mattresses are less comfortable for most people as they are much firmer and therefore most suitable if you don't intend to use the futon very often.
Common fabrics used for futon covers include polyester, cotton, linen and microsuede. Which one you choose will mostly depend on personal preference, but try to look for a cover that is washable and easy to remove.
Quality
If you're buying a futon to get you through a few years of school, there's no reason to shell out the big bucks for a high-quality set. Those who are looking for a futon to fit in with their home's interior design, however, should. The better the quality, the more durable and comfortable the futon will be. Spending more money on quality upfront will save you more money in the long run. And remember, even more expensive futons are often still more affordable than the sofa or bed you could be buying instead.
Style
One of the advantages of buying a futon is that the furniture is versatile. Not only can you use a futon for both sleeping and sitting, but you can also replace furniture covers whenever you want to update the room's look. Consider buying a few different styles that you can switch out as the season or your mood changes. Just be sure to have at least one neutral-colored futon cover in case you want to redecorate the room in the future.
Futons have been around for a long time, and they're not going anywhere soon. Consider one for your space and enjoy the many benefits this furniture piece offers.