Area rugs can bring style, warmth and comfort to a room, but choosing the right one isn't always easy. Rugs that are not sized appropriately or feature a shape that doesn't mesh with the room's design can cause a room's balance to be lost. Additionally, the wrong fiber might force you to buy a new rug sooner than expected. Use these guidelines to find an area rug that complements your space and enhances its style.
Choose the right size
Designers, homeowners and renters all have different preferences as to how large an area rug should be. Some say there should be 18 inches of exposed floor on each side of a rug, while others follow the rule that an area rug should be at least two feet away from the wall. These rules of thumb can help you make a better decision based on your room's size, but there are other factors you will want to consider as well.
In the dining room, for example, you shouldn't consider only the room's size. The dining table's shape and size also matter. Select a rug that extends past all sides of the table far enough so you can push dining chairs back without scratching the floor.
If buying a rug for the bedroom, make sure the rug extends past the bed on both sides far enough so you have a soft place to set your feet in the morning.
Consider textile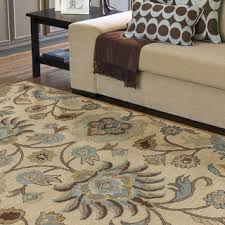 A variety of fibers can be used to create rugs, some natural and others synthetic. Each fiber has its own benefits, and learning those benefits can help you choose the right rug. Olefin rugs, for example, are best used outdoors or in high-moisture areas like the basement, because they will not mildew or fade when exposed to the elements. Wool fiber is well-known for its soft feel and long-lasting quality.
Match shapes
Square and rectangular rugs are the most common shapes for area rugs, but there are times when you might consider using a circular rug instead, like when you're placing a rug underneath a circular table or aligning it with a curved sofa.
An area rug is no small investment, so consider these tips before making a final decision. You'll be more likely to select a rug that you can feel good about and that fits in well with your room.