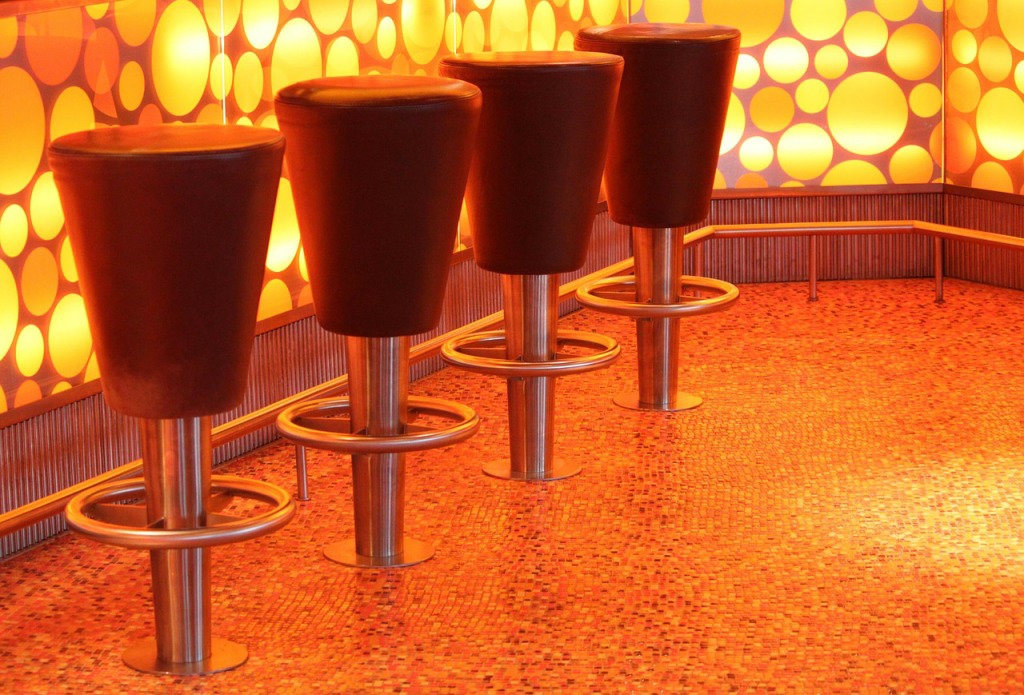 Who says you have to go out to have fun? A home bar provides a great opportunity to entertain friends and have a good time. Before your next get-together, be sure to wow your guests with a striking set of bar stools. Unique bar stools can help you set the right tone for your space by creating a hip and exciting atmosphere. Here are five suggestions to get you inspired.
1. Try an eye-catching color
With bright red bar stools, your home will be far from dull. Consider various bold colors and choose the one that best matches your interior design and personal style.
2. Consider an unusual design
If your room already has plenty of color, try finding a unique design instead to impress your guests. Bar stools come in many different sizes and styles. Some bar stools have backs and even armrests. You can find bar stools with cushions and detailed seatback designs, or styles that are simple and straight forward. Choose the style that makes the most sense for your space.
3. Go modern
If you have a contemporary interior design, take advantage of the modern style's eye-catching appeal and bring it into your home. Although modern is usually minimalist in style, the clean lines, sleek materials and stunning colors demand your attention.
4. Skip the set
One way to create a one-of-a-kind look for your home bar is to mix and match bar stools. Choose two different bar stools that feature different designs but still complement each other in order to create a cohesive setup.
5. DIY
If you like to craft, consider designing your own bar stools. You could buy plain wooden bar stools and paint or upholster them yourself. Not only will your friends be impressed by your stylish setup, but you can proudly share that you helped create the look!
How to top off your rustic theme with the perfect one of a kind bar stools
If you prefer the unpretentious appearance of rustic interior design to more glamorous styles, it's important to carefully consider every piece of furniture and accessory you use to create the look. Even smaller furniture items like bar stools can have a huge impact on the room's overall style! To find the perfect rustic bar stools for your home, keep in mind these tips.
Tip #1 – Materials matter
If you're trying to create a rustic style for your home, stay far away from plastic and materials with sleek finishes. Search for wood or aged iron bar stools instead. These materials are not only good for creating a rustic style, but they are also sturdy make for durable pieces of furniture.
Tip #2 – The weathered look is good!
Distressed and worn-out looking furniture is a great way to give your home rustic charm. Of course, you don't want to bring in bar stools that are about to break. Some pieces nowadays are made to look weathered, even though they're actually brand new. This allows you to enjoy the fashionable appearance of distressed furniture without having to fear for your safety every time you sit down.
Tip #3 – Keep it simple
The rustic style is modest, so a bar stool with ornate details and beautiful carvings would look out of place. Instead, look for bar stools with simple forms and few details. This allows the beautiful material and construction of the bar stool to shine.
Tip #4 – Colors are okay
Designing a rustic space doesn't mean you can't enjoy colors. If you already have a lot of brown and wood in your room, consider adding colored bar stools to brighten up the area. If you like DIY projects and already have wooden bar stools, paint the seats red, blue or orange to enhance the rustic atmosphere. Otherwise, there are many wooden bar stools already painted that you could purchase.
Tip #5 – Consider upholstery
If you're searching for bar stools for your home bar, it's okay to not have upholstered seats. People probably won't be sitting on the stools for very long and therefore will stay comfortable. If, however, the stools will be placed in the kitchen, where your family will be eating meals, you might want to consider padding. Leather/faux leather upholstery is the best way to enjoy cushioned seats without losing your rustic vibe.
When it comes to following a specific design style, every detail matters. Complete your rustic theme with the perfect bar stools and watch how a few seats can enhance the overall look.