Halloween is just days away; is your home ready for the occasion? Whether you're throwing a scary party or simply expecting Trick-or-Treaters this Friday, these DIY Halloween decor ideas provide fun, affordable and easy ways to create the right atmosphere for the big night.
Hanging ghosts
Welcome Trick-or-Treaters to your door Halloween night with spooky ghosts hanging on your front porch or lawn. All you need to create these cool ghosts are Styrofoam balls, black paint and a paint brush, cheese cloth, eye screws and glue. (visit Simply Designing for detailed instructions).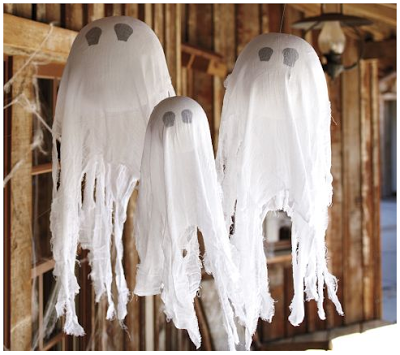 Haunted porch
If you're not throwing a Halloween party, use the majority of your decor outside so that those passing by can see your display. One simple way to give your front porch a more haunted appearance is to cover the railing and door with cobwebs. If you have a fall wreath, wrap cobwebs around that and hang it on the front door. Be sure to add little fake spiders in the web for a complete look.
Eerie eyes
Even something as simple as empty rolls from paper towels or toilet paper can be used to create Halloween decor! To start, cut out a different pair of eyes in each cardboard roll you have. Then insert glowsticks into your rolls and duct tape the ends. You can use different colored glowsticks to create green, yellow and even red eyes. Then place them carefully in your bushes so that at night, people can only see the eerie eyes.
Glass jar luminaries
Once you've finished a jar of pasta sauce or pickles, clean out the glass jar to create a Halloween luminary. All you have to do is paint the jar with acrylic paint (in any color you like), then use a sharpie to add details. For example, you can paint the jar orange and use different colored sharpies to add vines and a face. Place a fake candle inside for a final touch.
Window silhouettes
Window silhouettes are great for Halloween because you can see them both inside and outside your home. Creating silhouettes is fairly simple. Once you have an idea or theme in mind, get out your black construction paper and start cutting. Stick your cut-outs to the window and arrange them however you would like. Then add lights to create a spooky effect; green or orange lights are great for Halloween.
It's not too late to decorate for Halloween! These DIY decor ideas are fast and simple, and they'll help you enjoy a more festive home for the big night.