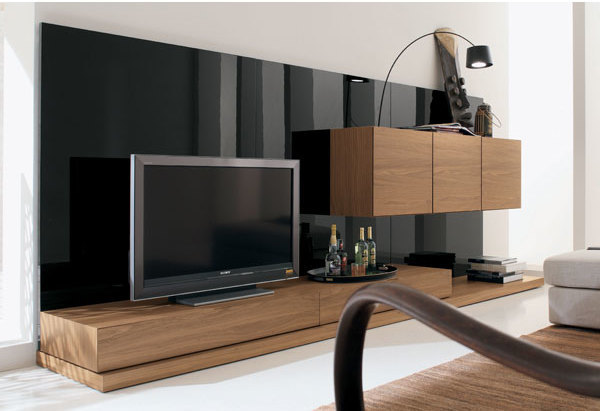 You got a new flat-screen TV, which means you might also need a new TV stand to go with it. If that's the case, let this useful guide help you select the right stand for both your TV and space.
Size
Depth and width will be determined by how large your space is and how much storage space you will need. Measure the area where you plan to put the TV to know the maximum width and depth you can choose.
To calculate the perfect height for your TV stand, you'll first have to determine what the perfect viewing height is for you and your family. It is always best for the middle of the TV screen to be at eye level or slightly below, as having to look up to watch the screen can cause soreness. With a tape measure in hand, take a seat on the sofa or one of your living room chairs and measure the distance from the floor to your eyes. This will tell you at what height the middle of the screen should be when placed on a stand.
Function
Obviously you want a TV stand to display your television, but you might also want storage space. If you just need open compartments for AV compartments, you can choose a smaller stand. However, if you also need closed storage for DVDs, games and other media essentials, be sure to look for stands with cabinets and/or drawers.
Style
The style you choose largely depends on your personal preference and interior design. If you have a traditional home, for example, you'll want a stand that has a rich, dark finish and perhaps some carvings to complement your existing decor and furniture. A contemporary setting would look better with a design that is more sleek.
If you're ready to begin your search, start by browsing our collection of TV stands at DCG stores. And if you have any questions about style or size, don't hesitate to reach out to our knowledgeable staff!