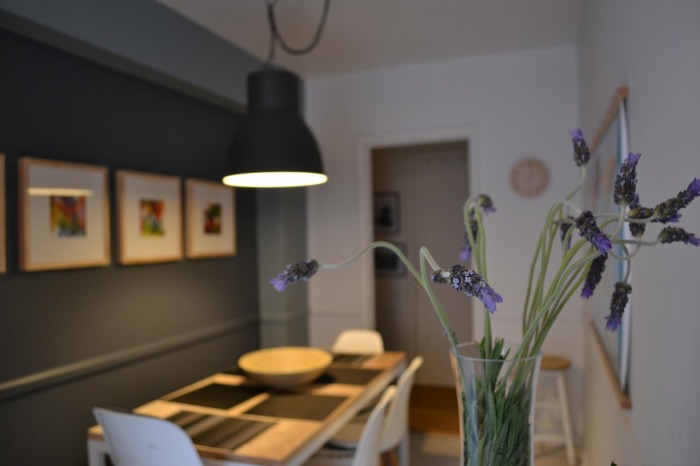 No matter the style you're trying to create, every room in your home should have rhythm. Rhythm in interior design, describes the natural flow or sense of unity that is created through decorating strategies like repetition. When a room does not have a cohesive design, you'll notice right away that it might seem off-putting or unfinished.
Make sure your room has rhythm by repeating elements such as:
1. Lines
If you pick out a dining table that features clean lines, hang up a pendant or chandelier that features a minimalist structure as well. You can also find rhythm by repeating shapes. Hang up a rectangular piece of artwork to echo the rectangular shape of the coffee table or pick out an oval mirror to match the curved shape of your bed's headboard.
2. Color
Adding a bright color can liven up your space, but it's important that you incorporate the color throughout the room instead of using it in just one concentrated area. If you go bold and buy a red sofa, find small accessories that feature the same shade to decorate the room. Upon entering the room, your eye will first focus on the brightly colored couch, but then will move along to other areas in the room thanks to the repeating red.
3. Prints
You can use your favorite print to create repetition in a room – even if your favorite designs tend to be bold. For example, if you love zebra stripes, give your bedroom some personality with a zebra-print vanity stool, and then incorporate the same design into other accessories like your throw pillows, rugs or light shades.
4. Materials and finishes
Design a nature-inspired room by using organic materials, or create a rustic space with wood as the dominating material. You can of course mix materials and finishes, but repetition can help tie the look together and enhance the room's overall theme.
5. Textures
Try using weathered wood, a fluffy blanket or a corduroy-upholstered chair. Using texture to decorate a room gives it character, and if you repeat the texture, it also gives it rhythm. Even smooth textures like smooth table surfaces can be used to tie the room together, especially if you're designing a modern space.
Now walk into each room and ask yourself, "Does my space have rhythm?" If not, look for ways to repeat different design elements to create a home with flow.