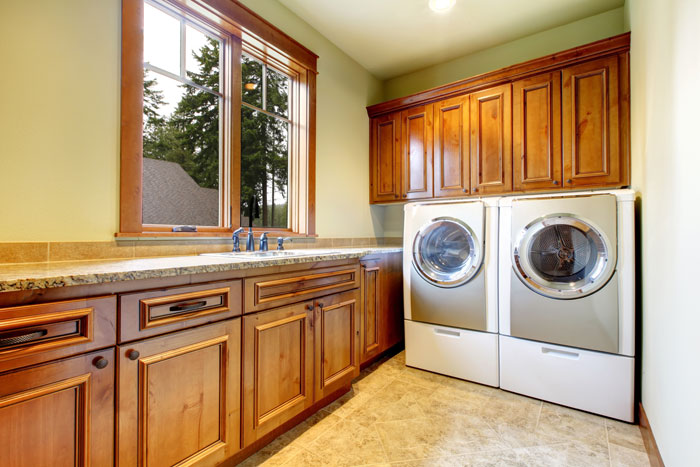 Because of its limited use, the laundry room is often one of the most neglected rooms in a home. As a result, the room's appearance and layout simply don't matter for many homeowners — but they should. Optimizing the layout, in particular, is a crucial part of making laundry a simpler, more efficient task. With these tips, your laundry room can go from neglected and messy to highly functional and organized.
Divide the room into zones
To create a laundry room layout that will make doing laundry as simple as possible, set up three main zones in the room: dirty clothes, clean clothes and supply storage. To ensure that clothes and supplies remain organized and easy to find, keep these zones separate.
The dirty zone should contain a hamper or bins where you can sort your clothes into whites, colors, pants, etc. before they go in the washer. This zone should also have space for treating stained clothes prior to the wash cycle, ideally including a sink and small work surface.
Reserve the clean area for clothes fresh out of the dryer that are ready to be folded, or for clothes from the washer that don't need drying. If the laundry room has enough space, create a folding station (a table or countertop) in the clean zone so you can fold clothes straight out of the dryer. An iron and ironing board would also come in handy in this zone. For clothes from the washer that can skip the dryer, set up a hanging rack where the clothes can air-dry properly.
Finally, make sure the laundry room has a dedicated space for supplies so you can find items quickly and keep a stock of frequently used items. There should be enough space for multiple bottles or boxes of detergent, stain remover, dryer sheets and other items you'll need for each step of the laundry process.
Maximize the space
Speaking of storage, you may have to get creative if the space in your laundry room is limited. Since laundry rooms are often small, there may not be space for a simple stand-up shelf to hold your detergent and other items. If free floor space is lacking, place cabinets or hanging shelves above the washer and dryer where you can conveniently keep your items handy. If you have front-loading machines, consider installing a countertop directly above them to create more storage space.
Make the room multifunctional
If your laundry room happens to be larger and has room to spare, turn the extra space into a craft area or work station. Laundry rooms are increasingly serving as more than a place to just clean clothes. With the room's free space, you can easily set up a desk or table for a scrapbooking station, find a spot for the dog's kennel or store mops, brooms and cleaning sprays.
By dividing your laundry room into sections and knowing how to get the most out of the space, you can turn it into an organized, efficient room. With an improved layout, doing laundry will be easier and more enjoyable than you remembered.