If you have the space for it, a game room can be a great addition to your home. Rather than rearranging the living room before guests come over or attempting to fit a ping-pong table in an already crowded space, a game room allows you to dedicate an entire area specifically to having fun. Here are some quick design tips to help get you started on your own game room ideas.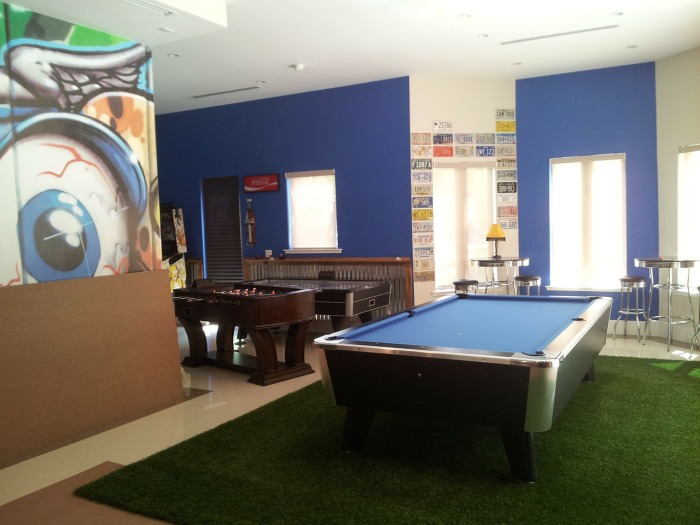 Tip #1 Decide what kind of game room you want to create
Do you want to set up a room to play board games or video games like Guitar Hero and DDR? What about a pool table or a basketball hoop? You might design a room that allows you to play a variety of games, but it's important to have a good idea of how you'll be using your space before you actually begin.
Tip #2 Offer comfortable seating
Bring in video game chairs to offer hours of comfort. Make sure you have padded seats for a long game of poker. Even if your game room is set up for standing activities, you'll still want to offer seating for guests so they can lounge and relax during breaks.
Tip #3 Consider a home bar
When your buddies come over for a game of poker or pool, grab them a cold one without having to leave the game room. A home bar set up in your game room can make it the perfect spot for entertaining.
Tip #4 Bring in fun decor
While you still want to design an attractive space, a game room is a great opportunity to have some fun with your decor and personalize your space. Incorporate colorful, unique pieces that don't necessarily fit in with your living room or bedroom's overall design. This will give your game room an upbeat and social atmosphere.
Tip #5 Have a large enough table for bigger get-togethers
If you want to have a table for cards or board games, plan to buy one large enough for parties. A great solution would be to buy an extending table, so you can save space when it's just you and your family.