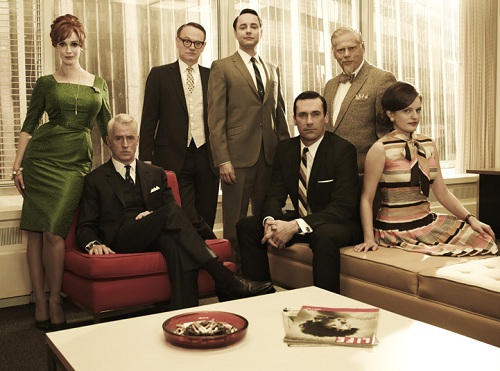 The seventh and final season of Mad Men resumed this April. Aside from being an award-winning show, the series has also become well-known for its influence over the design industry, having reintroduced trends from the 60's.
Soon after Mad Men first began, various fashion brands started featuring collections of dresses and suits inspired by the characters' vintage wardrobes. In the interior design industry, mid-century modern started making a comeback and has grown in popularity ever since. The mid century modern style is sophisticated and chic, so it's no surprise that so many people have brought elements of the style into their own homes. Follow suit by giving your living room a midcentury update. These easy ideas will help get you started.
Select furniture with clean lines and simple forms. This style is very different from the traditional style in that it is simple and straightforward. Carved table legs, overstuffed cushions and details like nailhead trims are not found in midcentury modern homes. Instead, search for a sofa and living room tables that have sleek forms and minimal adornment.
Hang a starburst clock on the wall. Starburst (also called sunburst) clocks were commonly found in mid century homes, so bring one into your living room to pull off the style.
Decorate with statement accessories. Modern living rooms tend to follow a more minimalist decorating style, but each decorative piece makes an impact. Rather than filling your living room with many different subtle items, accessorize with fewer pieces of bolder decor. Good examples of statement decor include a large-scale piece of art or a very tall plant.
Set down a large area rug. Unlike stark modern interiors, mid-century modern is contemporary but still comfortable. Prevent this straightforward style from looking cold or uninviting by throwing down a large area rug in the middle of the room.
Don't be afraid of color. Interiors typically have neutrals like gray and white as each room's primary colors. But the style does encourage pops of bold hues like red or yellow to keep the overall look from appearing dull. Consider adding a vibrant chair or painting one wall an eye-catching color.
Mad Men might be almost over, but the mid-century modern style doesn't appear to be going anywhere soon. Give your living room a stylish update by incorporating these five tips into the room's design.