Decorating a room from scratch is harder than you first think. While starting with a blank slate grants you the freedom to design the room however you wish, it also means you have many more decisions to make. How do you even know where to begin? If you're struggling to come up with ideas, the best way to start the creative process is by making an interior decorating storyboard.
A storyboard allows you to put a room together before you actually start decorating, which then gives you the opportunity to see if you'll be happy with the finished design. It also lets you explore different possibilities before choosing one specific style.
To get started on your interior design storyboard layout, follow these six steps.
1. Draw a floor plan
You don't need to be an artist to create a floor plan, but you should be accurate when measuring. Factor in all of the existing elements such as a fireplace or window that will influence your room's design. Seeing how the room is laid out will help you when making purchase decisions so you can select stylish furniture that will fit in with the current setup.
2. Get inspired
Now that you have a better idea of your room's layout, it's time to start considering styles. You can tape or glue your floor plan to the storyboard poster, but you might want to use a bulletin board for the inspiration process. This will give you flexibility until you narrow your focus. Go through magazines, websites and catalogs to find styles you like and put anything worth considering on the bulletin board.
3. Determine your style
Look at your bulletin board and search for common themes among the various pictures. Do you see a pattern? If so, use that pattern to help narrow your focus and pick a specific style that you want to create for that room. You can then get rid of all of the photos that do not fit in with that theme and attach the ones that do to your storyboard.
4. Choose a color palette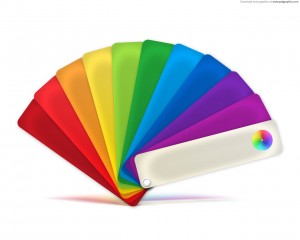 Select a color palette that allows you to create the style you've chosen for your room, whether it's modern, cottage, rustic or traditional. There are various ways you can choose a color palette. Some people prefer to base their color options on a piece of furniture or artwork they can't do without. Others choose the color palette first and then start looking for furnishings.
5. Collect paint samples and fabrics
With your color palette determined, start collecting paint samples and fabrics that fit in with your color scheme and add them to your storyboard. This will give you a good idea of how colors look next to each other and whether the palette works.
6. Attach photos of anything you have or plan to buy
It's time to start furnishing your room! Glue images of anything that you have bought for your room or furniture that you plan to buy to the storyboard to keep the decorating process running smoothly. When you're looking to buy a new sofa or lamp, look to your storyboard to make sure the new purchase will fit in with your decorating plan.
It's important that you're happy with your space, and nothing is worse than decorating a room and not feeling satisfied with the results. Use a storyboard to ensure decorating success and create a room you'll love.