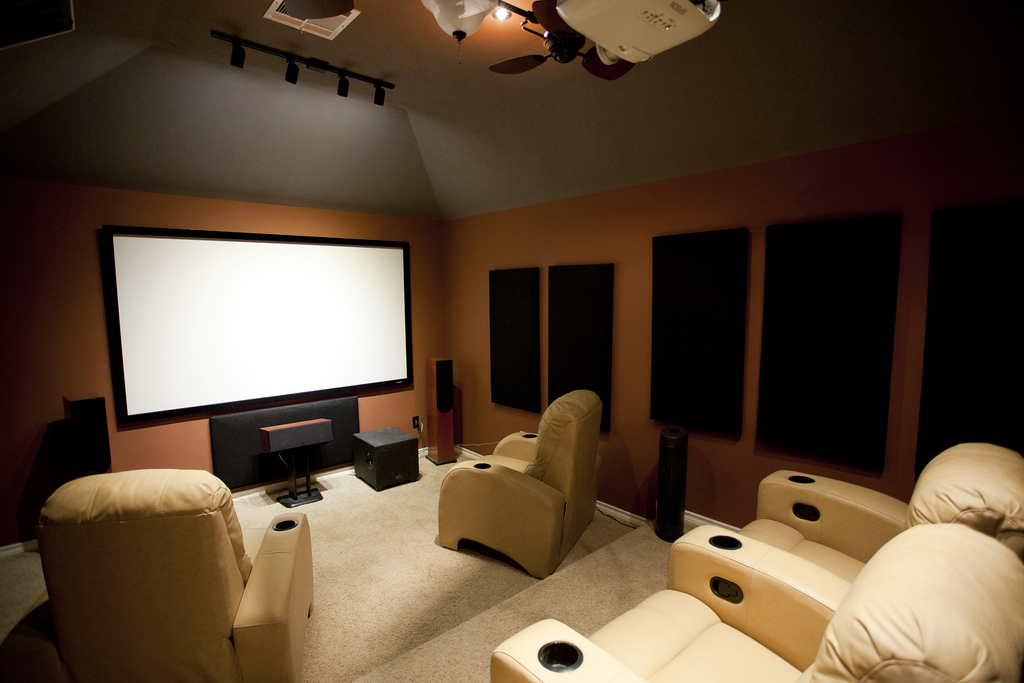 Come Super Bowl Sunday 2014, bars and restaurants will be packed with people trying to watch the Big Game with the Seahawks playing against the Broncos. With a home theater setup, you can avoid the crowd and host the perfect party right in your own home. All you need is a great TV and comfortable Super Bowl home theater seating to make your space ready for the big game.
The Super Bowl is generally around a four-hour event. That's a long time to be sitting in one spot – no matter how exciting the game might be. It's important that you're comfortable so you can focus your attention on watching the plays (and of course the cool commercials).
Here are some of the seating considerations to keep in mind:
Number of people
How many people are coming to your Super Bowl party? Do you need room for a small group or a large party? What about movie parties that you plan to host down the road? If you plan to entertain large numbers of people regularly, consider rows of seats like a movie theater or one large theater sectional. If you want a home theater set up just for family, then a reclining loveseat will probably be preferable.
Seating layout
Consider different seating arrangements and decide which one would provide the best viewing experience for everyone. You don't want guests to be straining their necks trying to get a better glimpse of the game. Everyone should have a good view of the TV no matter where they sit.
Furniture style
Not all home theater seating actually looks like it belongs in a movie theater. You can enhance your Super Bowl watching experience with sectionals and loveseats that still fit in well with your living room style. First decide on the overall look you want for your space and then you can choose a seating style to match.
Seating features
Home theater seating is generally designed to provide comfort and convenience, but not all seats are the same. Do you want your chairs to recline? How about having a loveseat with cup holders? Determine what features are important to you and narrow down your options accordingly so you know what to purchase when it comes time to buy.
Which seating options are available for your space?
Sectionals – If you're hosting a Super Bowl party, you want to be sure there are enough seats for everyone. Sectionals are a comfortable solution for seating a group of friends, and they tend to be more convenient. Instead of having to buy two or three smaller couches, you only need to get one sectional to get the same amount of seats. Before the game, you might need to rearrange the sectional so that all of your guests have a good view of the TV.
Accent chairs – Even with a sectional, you might still need extra seating if throwing a larger party. This is a good opportunity to add some accent chairs to your home décor. Accent chairs are perfect because you can move them from room to room whenever you need another seat. So while you might prefer having an accent chair in your bedroom for day-to-day use, you can then just bring it to the living room whenever you have company. Plus, they're much more comfortable than the dingy folding chairs you may have used in the past.
Recliners – Maybe you're not throwing a Super Bowl party and you just prefer to watch the game by yourself. If that's the case, then a reclining chair is the perfect seating solution. With a reclining chair, you can kick back and enjoy maximum relaxation while watching TV. Don't get too comfortable though. You don't want to accidentally fall asleep and then miss the big game!
Three-seat sofas – A large, comfy sofa is perfect for viewing the Super Bowl with your family or a couple of close friends. It also gives you the option to add variety in your living room setup. If you would rather have a mixture of different seating options in your living room, a three-seat sofa would be a better choice than a sectional.
Make sure this year's Super Bowl game is both an exciting and comfortable experience for everyone. With these considerations in mind, you can find the perfect home theater seating for your space to make this year's Super Bowl party a smashing success.
Photo credit: gsloan via flickr