Having a home office gives you the chance to make your workspace truly yours. You can say goodbye to bland cubicle walls and the lackluster paint colors that make up the average office space. With a home office, you can splatter the room with color and create an environment that feels alive. But before you go crazy with the paintbrush, remember that you still need to be able to get work done in your home office; the colors you pick for the space can affect your mood, productivity and overall success.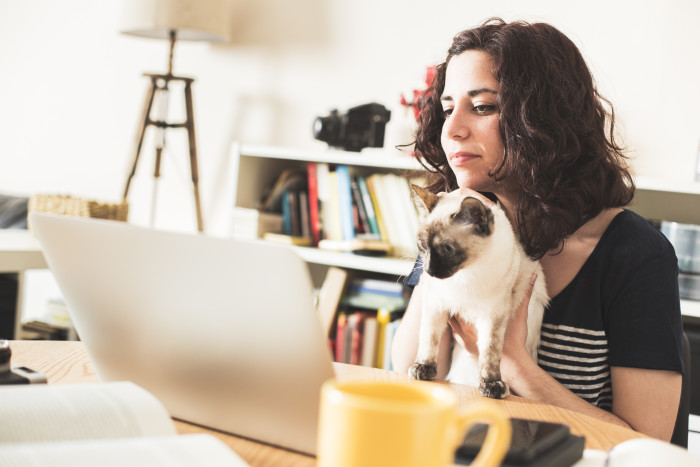 When deciding what colors to use in your home office, first consider the kind of tasks you'll be doing and what mood you need to be in to do your best work. For instance, a designer's workspace should feel different from an accountant's workspace because the two professions require a different mindset. Be sure to study the different colors and how they can affect your mood and performance.
In case you missed our last week's  posts for home office space tips, you may want to check out 5 Key Elements of the Perfect Home Office Chair and How to Keep Your Home Office Organized for more ideas.
Blue – As a color that stimulates the mind, blue is good for tasks that require a lot of thinking and examination. Because it inspires thought and keeps people calm, blue is one of the most common colors for a home office. Additionally, shades like turquoise promote communication and are a good fit for people who will be sending a lot of emails or making phone calls.
Purple – Purple is the color associated with peace, wisdom and intuition. Similar to blue, purple engages the mind and makes people feel relaxed. The color is a great choice for people in the academic field or other professions that involve critical thinking and intellect.
Green – A soothing and relaxing color, green is a perfect home office color for those who are prone to stress and anxiety. If the work you'll be doing in your home office is demanding and stressful, consider painting the room a mellow shade of green or incorporating green furniture and décor items into the space.
Yellow ­- There's a reason many sticky notes and reminders are yellow. The color helps jog the memory and keep you focused. Yellow also stimulates emotions, making it a good selection for people in a creative career who need to evoke emotion through their work, such as designers and writers.
Orange – As a bright, vibrant color, orange will keep you energized and motivated to get your tasks done. Consider using orange in your home office if you need an extra boost when it comes to focusing on your work.
Red – Like orange, red increases energy and keeps you motivated. The color increases energy more intensely, however, and that high dose of energy causes you to work more quickly. While an increase in pace is good because it will lead to higher productivity, the speed can also cause more mistakes; be careful using red in a home office if your work allows little room for error.
Don't be afraid to mix colors in your home office, too. For example, consider painting the room blue and filling the space with yellow decorative items. The combination will keep both your mind and emotions active, helping you be thoughtful, creative and focused. Whichever colors you use, make sure they match your needs and create an environment that will boost your performance, not hinder it.