Like many other big pieces of furniture, sofa sectionals are usually purchased for long-term use. This means the sectional you choose needs to be durable, a good fit for your living room and in a style you will continue to enjoy for years.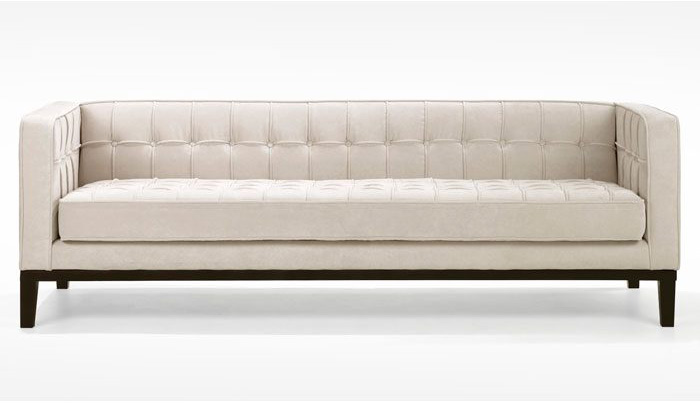 To select the right sectional for your space, it is a good idea to know what you're looking for before starting the shopping process. Measure the living room to determine the amount of space you have to fit a sectional and consider your preferences in shape. Traditional sectionals come in an L-shape, but other sofas are now curved in a C-shape to give you flexibility in design.
Choosing the upholstery type for your new sofa
The next step is to consider upholstery. If your living room is already furnished and decorated, you'll want to find a sofa that fits in with the room's existing style. For example, a modern living room would be best complemented by a sleek and simple sofa. If you're decorating the room from scratch, you'll have more flexibility in selecting colors, fabrics and style. Be sure to keep in mind, however, that buying a trendy color or pattern may not be the best solution for long term, as the trend could go out of style. You don't want to design a living room that will look outdated in a couple of years and then be forced to buy a new sectional.
Fabric options
Leather – a popular classic choice for upholstery on a sofa. Options included top grain, full grain, bonded leather, and leather match. There are some considerations for cleaning. Use a good commercial grade leather cleaner and avoid furniture polish and oils which makes the surface sticky or harsh detergents which can damage the furniture.
Cotton – this natural fabric is durable and easy to clean. The fiber offers good wear resistance, color fading and piling, but may be more prone to soiling and wrinkling. It's resistant to most dry-cleaning solvents.
Cotton Blend – an all around sturdy and popular family friendly option which is great for daily use. Use a protective spray to make the fabric more stain resistant.
Linen – strong fiber best suited for formal living rooms. Wrinkles easily unless finished; weakened by sunlight; not good for humid environment as mildew can form.
Wool –  a luxury fabric which doesn't soil easily and resists wrinkling and piling. Small amount of liquids run off the fabric to repel minor spills. Wool provides comfort to the body as it acts like a temperature regulator throughout the year in both warm and cold seasons.
What's the budget you need to work with?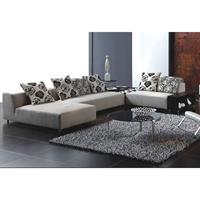 After you've established how you want the sectional to look, set a price range that fits your budget. When you're ready to shop online, you can narrow down your options by tailoring the search to show only sofas that are in that price range.
Keep in mind the size of your sofa and the type of upholstery you want will significantly impact the final price you pay. Setting and planning a budget ahead of time will reduce the time needed in picking out your sofa as it will "weed out" the other choices which doesn't qualify.
A quick tip here – leather sofas are generally quite expensive. However, you can save some money and get the same look by going with a leather match sofa. The fabric for areas which you don't see and touch such as the back of the sofa uses synthetic leather to bring the cost down.  This means a lower price for you!
Buying a sectional isn't a decision that should be made rashly. Take some time to consider your options and determine what will be a good fit for your home now and for years to come.