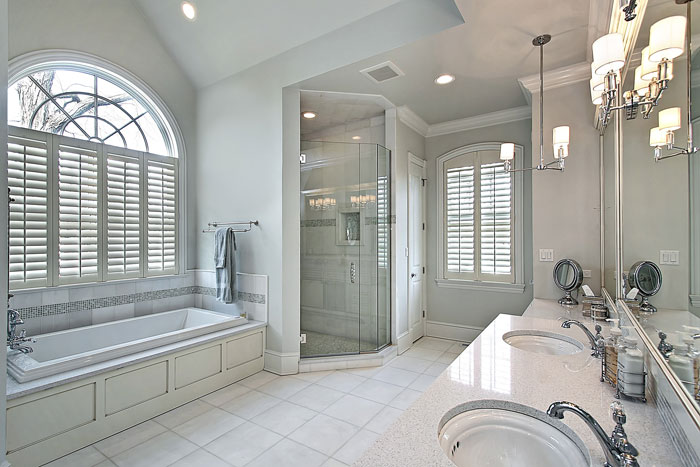 Many have dreamed about refinishing their master bathrooms in Carrara marble or installing a rainfall showerhead. Others yet have spent time wishing for the space and money to put in an Empire bathtub. The reality is that the ideal bathroom is usually well beyond the budgets of most people. Nonetheless, with some creativity and savvy, you can redecorate your bathroom with budget-friendly updates that will give it the sense of comfort and luxury that you expect from far more expensive renovations.
Paint – When you're on a budget, paint is your best friend. There's really no hard-and-fast rule about what colors to use; it all depends on what kind of statement you're looking to make. Generally, the master bathroom is a place to really relax. Therefore, most people attempt to create a warm, serene atmosphere by using light, soft colors such as silvery gray, sky blue or beige, and white or other neutral highlights.
Light – When you're redecorating on a budget, keep in mind that it's not always the things you have, but how you make them appear. In concrete terms, this means that you don't have to go out and spend money on new things; often, you just need to — quite literally — look at them in a new light. An additional light can add warmth and serve as an appealing decoration. One exciting fixture to consider is a chandelier. With thousands of styles to choose from, you'll easily find a style to give your bathroom the desired look.
Change it out – Some of biggest changes you can make are also the simplest. You might not think about it, but the most obvious things you can change out, such as a shower curtain and towels, can have the biggest influence on how your bathroom looks and feels.
Creative storage techniques – This is one area you can have a lot of fun with — and clean out the clutter while you're at it. Hanging baskets, wooden crates for homey country look, and transparent jars are just some of the many ways you can creatively store and decorate your bathroom. Always remember: you can do better than a medicine cabinet.
Smell – No matter your budget, think with all your senses when you upgrade! When it comes to odors and bathrooms, most of us are concerned about how we can eliminate foul smells. No doubt this is an important factor, but there's a lot to be said about creating a positive scent to associate with your bathroom, one that is distinguished from all other rooms in the house. Candles are the obvious way to do this, but other ideas like potpourri can lend distinct scents and produce visual appeal, too.
With these easy tips at your disposal, you'll be able to transform your master bathroom into a modern, relaxing space without breaking the bank.