When it comes to home decorating, there are lots of ways to add punch and personality to a room. Faux painting, for example, is an easy way to add texture and depth to a space. If you've never heard of "faux paint" before, it's a term describing finishes that replicate the appearance of materials like marble and wood. When you paint a wall with faux paint, you can transform it to look like leather, burlap or any other material you like.
Here are five faux painting ideas to get you inspired.
1. Paint an accent wall
If the thought of textured walls seems too overwhelming for all four walls, just paint one instead. Whether you paint the wall to look like marble or burlap, the faux finish will make your room and stylish furniture pop.
2. Get inspired by nature
Give a room energy and life by painting the walls to match natural elements. There are faux paints that imitate tree bark and rocks to give your space an organic appearance. Then you can add natural pieces like a hand tufted rug to the room to complete the look.
3. Create a rustic appearance
If you're trying to design a rustic room, use faux paint to help you achieve the right look. Many paint stores sell plaster faux finish, which is designed to look like the plaster material used in early American homes.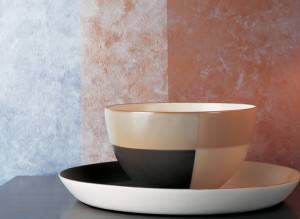 4. Add a faux finish to your ceiling
Homeowners rarely take advantage of their ceilings to add color and texture, but you can with faux paints. Paint the ceiling with the faux finish of your choice and then paint the remaining walls a color to complement that finish.
5. Find inspiration from your paint store
There are so many faux painting possibilities out there that I couldn't possibly cover them all. Check out the selection of faux finishes offered by your local paint store and see what other great ideas you can come up with!