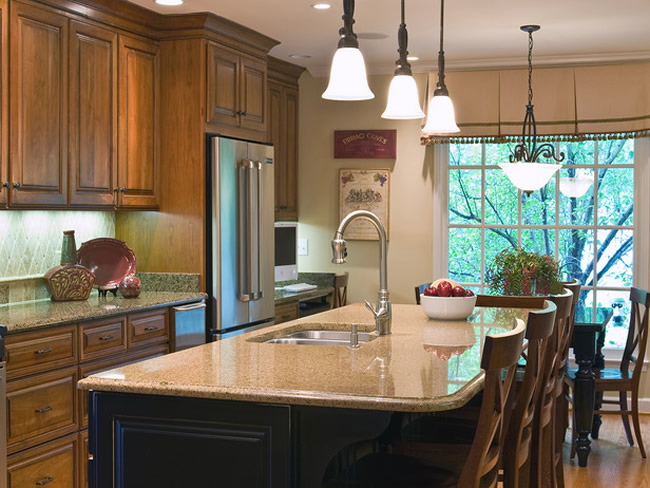 When it comes to designing a kitchen, lighting is one of the most important factors you will want to consider. Proper kitchen lighting is necessary for performing certain tasks, feeling comfortable in your space and adding style to the room's overall appearance.
To create a well-lit space that is both effective and comfortable, it is best to layered lighting. Layered lighting is the concept of using multiple light sources in a room to keep your space evenly lit and prevent it from feeling too harsh. So instead of just relying on one, bright overhead fixture to light up the kitchen, you can hang up and install various fixtures throughout the room.
A kitchen generally requires a combination of task and ambient lighting. To determine the locations in your kitchen that require task lighting, simply pinpoint the areas where you will be preparing and eating meals. Under-cabinet task lighting is often necessary if you chop vegetables or meat on the kitchen counter and track lights are a great way to illuminate the sink area when washing dishes.
While you want kitchen lighting that is primarily functional, you can still add style to your space. Pendants are popular kitchen lights and are usually hung up over kitchen islands and tables. These light fixtures are great because they provide nice overhead lighting and can be used for visual appeal as well. Either choose one, large pendant or hang up two or three pendants depending on the length of your kitchen island.
How you choose to light-up your kitchen is important, so keep these considerations in mind so you can design a space that is both functional and stylish.